History of The Spaniard Inn


The Spaniard is built on the foundations of an old castle. It was built on these ruins in or about 1650. As such it was first called the Castle Bar and run by the Coleman family of Scilly. It has been a famous pub almost since then - becoming a home from home for many sailors and fishermen.

It the 1960's it took it's present name of "The Spaniard". The then owners did so to honour the brave and courageous Spaniard, Don Juan d'Aquila who took a significant part in the battle of Kinsale in 1601.

The present proprietors, David Shaw and Mary O'Dwyer, have continued the the long tradition provided by past owners - and is noted for it's restaurant and bar food, and its music that ranges from Traditional Irish to Russian Gypsy.

The fame of the restaurant and bar continues to this day. The Spaniard has recently added the coveted Georgina Campbell/Jameson Whisky award to the collection. Why not enjoy the ceol agus craic here in the Olde Worlde surroundings of The Spaniard, Kinsale.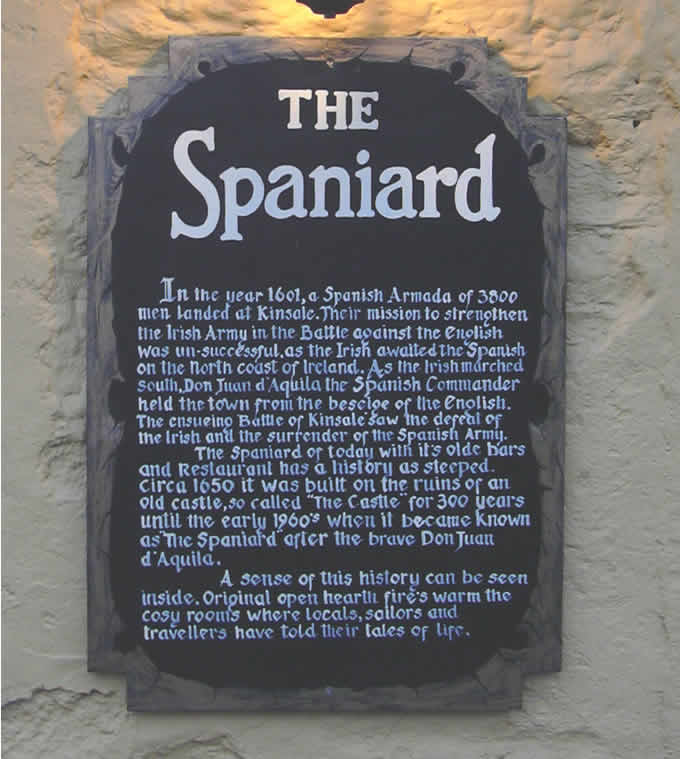 However, a little bit of modern history is that we received the 2018 Certificate of Excellence from TripAdvisor. So, we are proud and you can be sure that you will be very well looked after at The Spaniard!